TASCO MTB building loyalty one customer at a time
Published

 
October 12, 2021
MONTEREY, Calif. (BRAIN) — TASCO MTB is a four-person company — not including a high school student helping part-time with shipping — that understands the old adage that good news travels fast, but bad news travels faster.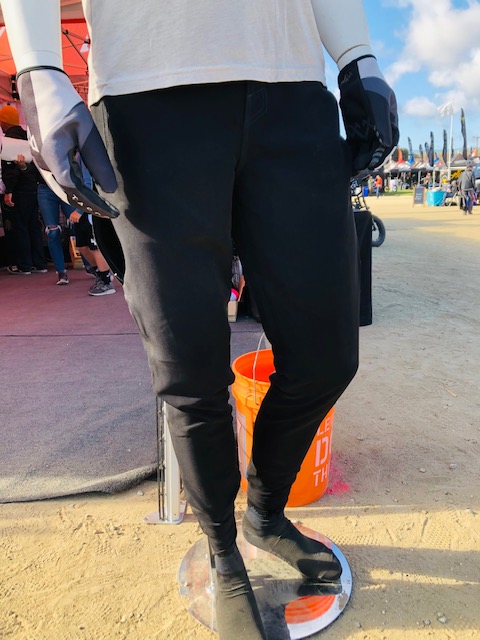 That was never more apparent than during the second day of the Sea Otter Classic on Friday.
While owner Nate Miller was giving BRAIN a tour of TASCO MTB's inventory, a consumer who bought a pair of his gloves online three months ago came by to show him a seam failure.
"Oh, we have to fix that. I don't like that," said Miller, who promptly exchanged them for a new pair. No questions asked, only an explanation of how the brand has since updated that seam design.
"That's how we roll," Miller said. "You know what? He's going to go tell all of his buddies."
The word is getting out about TASCO MTB and its main products, which include short-pants and long-pants shells, and trail jerseys. The brand officially started in 2015 and is building a dealer network after beginning as an e-commerce site.
"Before the pandemic, we were probably 75% direct and 25% wholesale," Miller said. "We're in the process of opening it up to more dealers. We were probably in about 150 stores across the country (when that pandemic hit), and, boom, it went to zero, close to 100% direct. And our business boomed."
Miller said online grew because many retailers didn't want customers trying on clothes and gloves for safety reasons and to keep traffic moving in and out quickly during COVID-19.
"Now we're about a 50-50," he said. "We've seen it flip. The online has stayed, but the wholesale business has grown tremendously. About 200 retailers, but a lot of that has come because BTI is carrying it, KHS, REI, that's really boosted the numbers. We have some international sales starting up."
And even at Sea Otter, which TASCO MTB had products to sell, business was up 50% from the previous festival in 2019, he said.
To stand out in the mountain bike apparel market, Miller devised a marketing strategy to pair matching sets of gloves and socks, and to introduce limited-edition colors and designs. It's evolved into a monthly Small Batch offering to retailers and online. Retailers receive a point-of-purchase display to highlight that month's design.
"Dealers have the option to be on a subscription, where we give them a POP," Miller said. "They're limited edition, and when they're gone, they're gone. If one does really well, we'll bring it back. It's fun. Let's bring something fresh to the market. It's good for us direct and builds up that subscription business for dealers, and they don't have to worry about ordering. Every month, we tempt the customer with a new design, with social media, newsletters. We get a lot of loyal repeat business out of it."
TASCO MTB offers five varieties of gloves that are manufactured in Vietnam, ranging from a cool weather model to a minimalistic design. It recently entered the trail shorts market and unveiled at Sea Otter the Scout MTB Pants, both also manufactured in Vietnam.
"The Scout Shorts have quickly become our No. 1 revenue-generator," said Miller, who added that TASCO MTB employs a similar Small Batch strategy with shorts. "It looks like a lifestyle short, but you can ride around town in them."
Sustainability is also a growing part of TASCO MTB's business model. It has started using 90% REPREVE, a performance fiber made from recycled materials that include plastic water bottles, in some of its shorts and all of the pants. One pair of shorts uses 15 bottles, Miller said. It soon will manufacture all shorts with REPREVE.